Bimble Bandada Returns!
featuring:
Dutty Moonshine
Will and The People
Z-Star
Hackney Colliery Band
Too Many T's
John Fairhurst
Morning Glory
Disco Panther
Just a Couple of Mums,
Ushti Baba, Sam Walker,
The Little Unsaid, Annaca,
Worry Dolls, Pip Mountjoy,
Slightly Offensive Steve
and many more...
Directions
Please enter your eTicket no below to retrieve your eTicket and directions:
---
PS: in case you were wondering its pronounced "Ban-DaD-A!"
(it's Spanish, for flock together)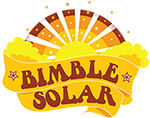 Get our Cheap Solar Panels...
Car Share
http://gocarshare.com/festival/bimble
Any Questions... email us on info@bimblebandada.com
Hire a Tipi or Yurt for the weekend: Click here for details